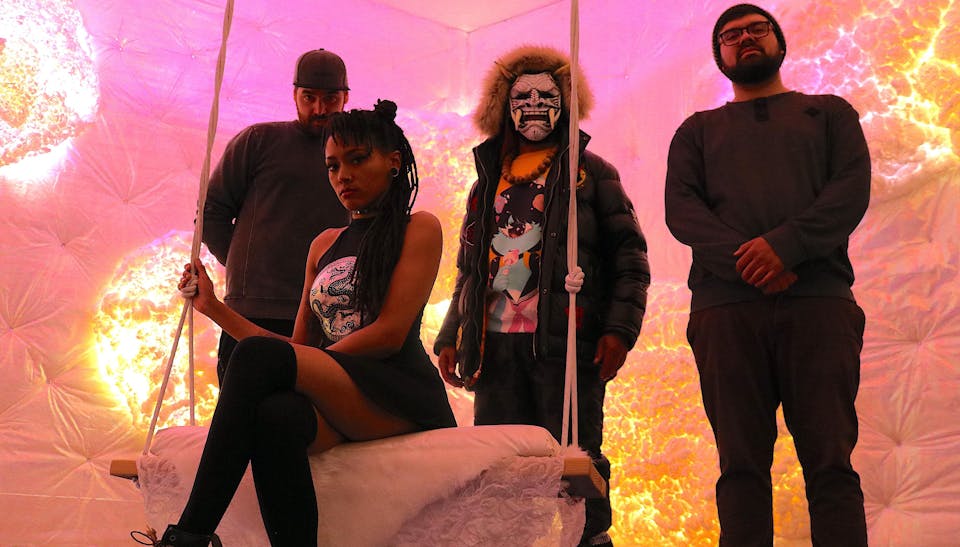 Ramakhandra -- Late Show -- Last Denver Show of 2020!
Larimer Lounge Presents Ramakhandra on Friday, August 7--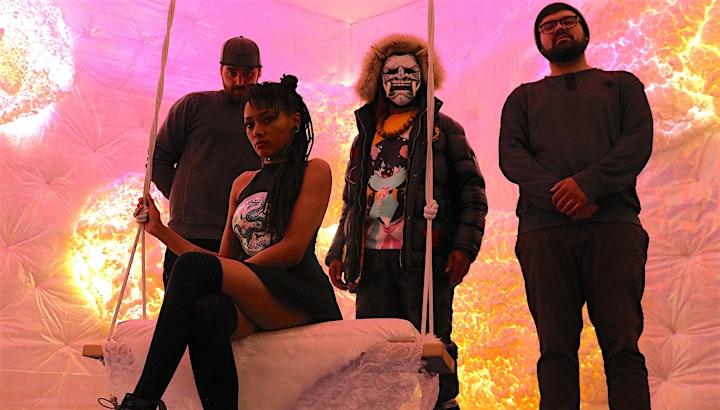 Website | Facebook | Instagram
Ramakhandra is a group of four gifted dreamers. Annastehzaa, Clato, Ness, and Nobahdee met in a series of coincidences that could be called fate in 2018. Sharing songwriting duties on all songs, their individual personalities combine into a singular mighty music Megazord that draws its influences from anime, nature, video games, food, and the modern world around them. They wield this sonic lens to recontextualize the major issues bearing down upon humanity such as climate change, inequality, and social & environmental injustice. Mixing together vocals, harp, synth, drums, & bass into a sonic potion all their own, it's hard to classify them into any particular genre. Upon listening, it's difficult not to close your eyes, and allow your imagination to run rampant.
This is music from the future for the present. A gift and a warning, a mystery, and an answer. A delicious meal that is also medicine. Ramakhandra is music to wrap yourself in, one moment it's raindrops falling on your face, the next it's an interdimensional storm soaking you to your very essence. But above all, it's breathtaking.
We are committed to following all applicable guidance under the Colorado's Re-opening guidance for restaurants. Don't forget your mask!
ALL SALES ARE FINAL. Review your order carefully, there are no refunds for any reason. No tickets are mailed to you, your name will be on the will call list night of show. Night of show (1) bring a valid government issued ID and (2) print your confirmation or show your electronic confirmation e-mail. Tickets may be transferred by providing your receipt for another person to provide at the door.
To transfer your ticket: Please provide the person who will be using your tickets with your electronic receipt (electronic or printed). They will need to show it at the door the night of show. This will be honored as long as no one else has checked in using a duplicate electronic receipt.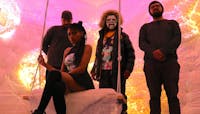 Ramakhandra is a group of four gifted dreamers. Annastehzaa, Clato, Ness, and Nobahdee met in a series of coincidences that could be called fate in 2018. Sharing songwriting duties on all songs, their individual personalities combine into a singular mighty music Megazord that draws its influences from anime, nature, video games, food, and the modern world around them. They wield this sonic lens to recontextualize the major issues bearing down upon humanity such as climate change, inequality, and social & environmental injustice. Mixing together vocals, harp, synth, drums, & bass into a sonic potion all their own, it's hard to classify them into any particular genre. Upon listening, it's difficult not to close your eyes, and allow your imagination to run rampant.


This is music from the future for the present. A gift and a warning, a mystery, and an answer. A delicious meal that is also medicine. Ramakhandra is music to wrap yourself in, one moment it's raindrops falling on your face, the next it's an interdimensional storm soaking you to your very essence. But above all, it's breathtaking.

Venue Information:
Larimer Lounge
2721 Larimer St

Denver, CO, 80205