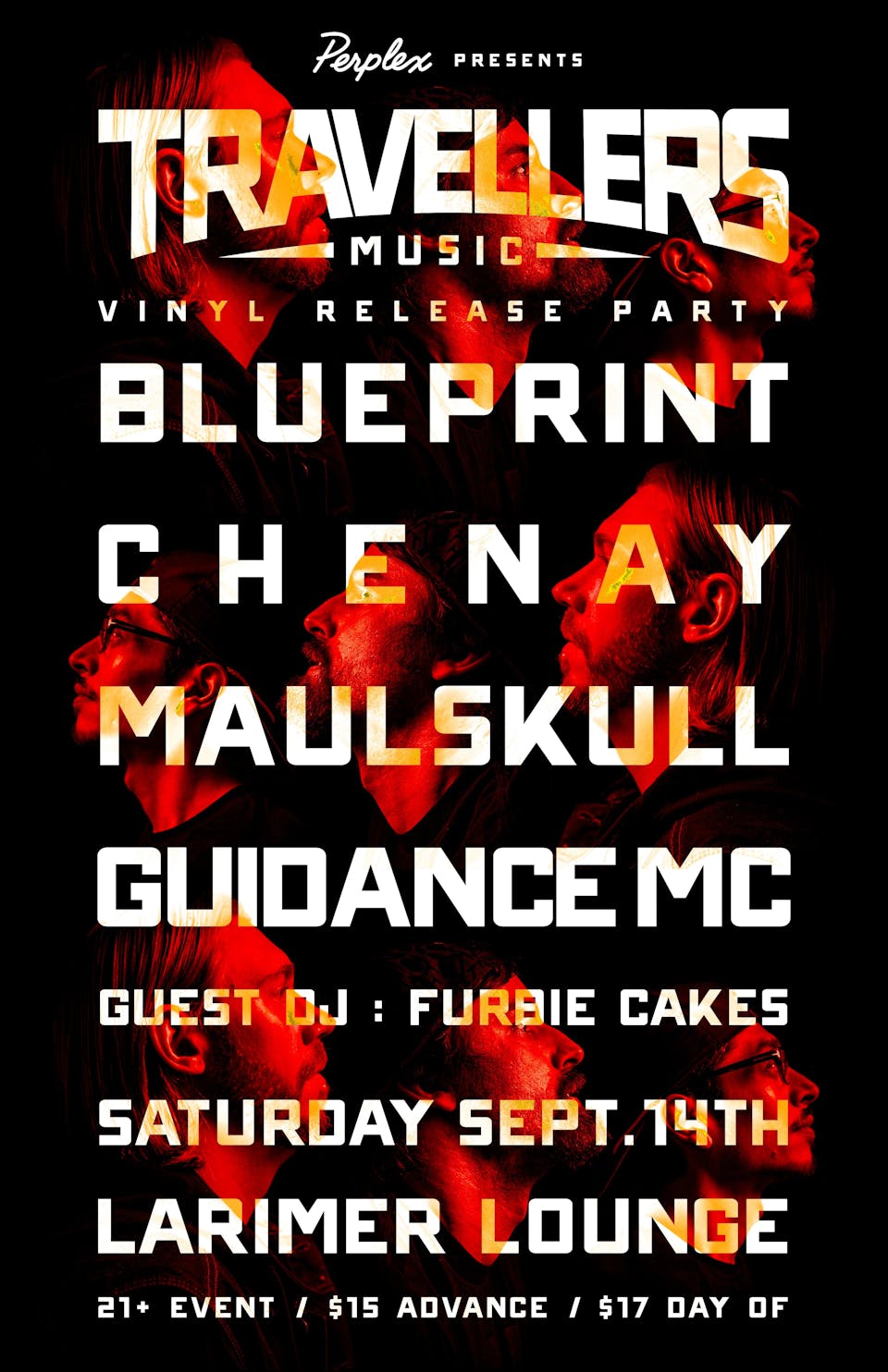 Travellers Music
Blueprint, Chenay, Maulskull, Guidance MC, Furbie Cakes
Travellers Music (Album Release) at Larimer Lounge on Saturday, September 14th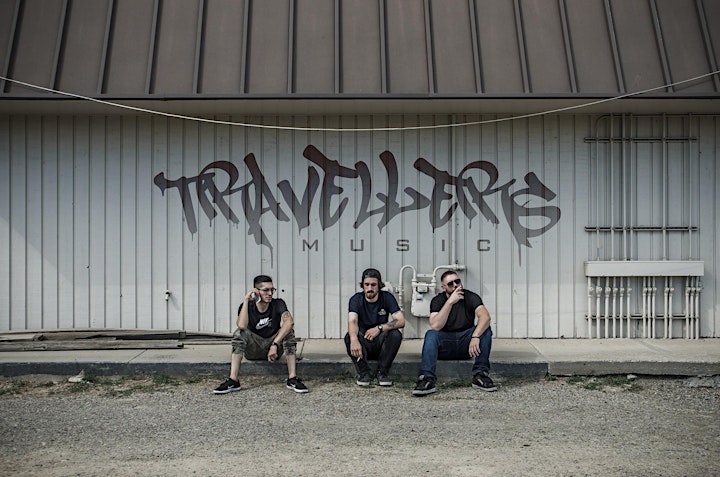 Travellers Music is a diverse independent hip-hop collective known for attacking a wide variety of subject matter, while maintaining a high-energy, action packed show. Incorporating carefully placed rhyme schemes ranging from aggressive and outspoken to heartfelt and soulful, they strive to embody all aspects of conscious thought. Straying away from being consumed by the shallow and generic hip-hop has allowed them to foster unbridled creativity and continue to grow as a collective and explore new ground. Inspiration drawn from underground roots and the Golden Age era has heavily influenced their sound, although they remain to keep an up-to-date, introspective portfolio. Travellers Music live show is accompanied by original, handcrafted beats all produced in house. Old school sampling techniques are generally relied on and while each artist's style remains distinct & unique, they all exemplify that classic Boom Bap standard. When Travellers Music hits the stage, multiple styles unite and integrate into a cohesive, engaging performance that has harbored significant local and national recognition, which has provided them with opportunities to perform across the Midwest and at various music festivals including SXSW.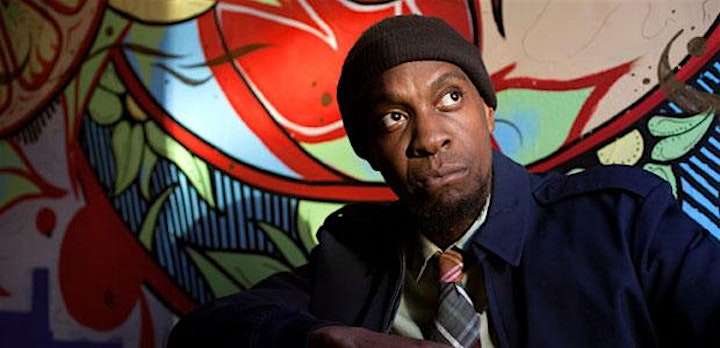 Facebook | Bandcamp | Twitter | Instagram | Website
With his fourth studio album, King No Crown, critically acclaimed mc/producer Blueprint has continued his constant evolution by combining the boom-bap chops of his 2014 project Respect the Architect (Weightless Recordings) with the genre-defying aesthetic of his 2011 album Adventures in Counter-Culture (Rhymesayers Entertainment). The end result is 60-minutes of uninterrupted music that effortlessly transitions from song to song without a single moment of pause or silence, a meticulous production effort handled entirely by Blueprint. Lyrically, Blueprint provides his trademark honesty–paying tribute to hip-hop, lost loved ones, and the legacy of fallen artists Eyedea and J. Dilla–making King No Crown his most personal and conceptual project to date.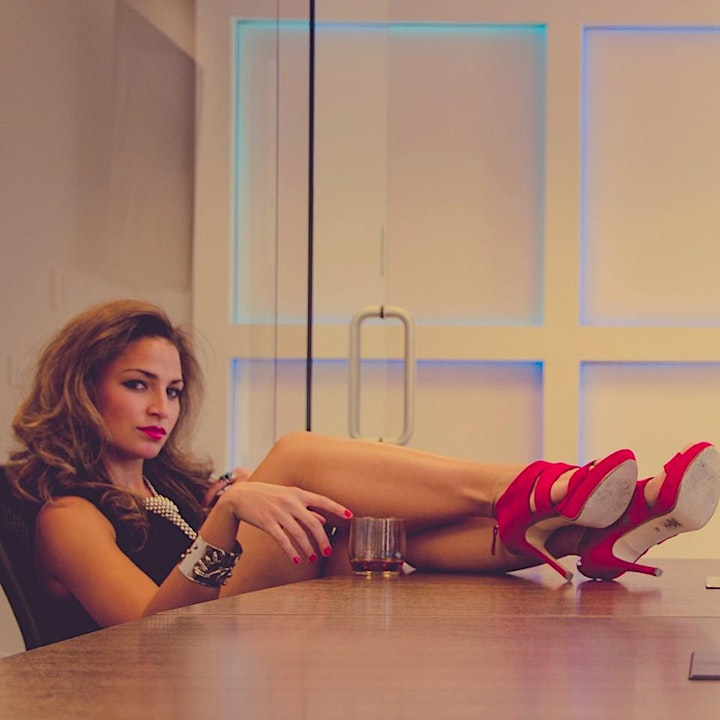 Facebook | Twitter | Soundcloud | Instagram
Through her musical journey thus far, Chenay has created her own smooth and sultry sound that encompasses many genres of music including, Jazz, Neo Soul, R & B and Pop, Her positive vibes and rhythmic styles are a breath of fresh air in the music world and have transformed her into an inspiring entertainer. Ever since age 5, she has wanted to entertain others. Whether it was through her dancing, acting or singing, she was bound to take the entertainment industry by storm! Chenay aims to uplift and entrance her audience by helping them escape into the world of art! Her music is for the people. "I want to take people to a place where they forget the stress of everyday life and give them a chance to relate to similar feelings and emotions that I have experienced."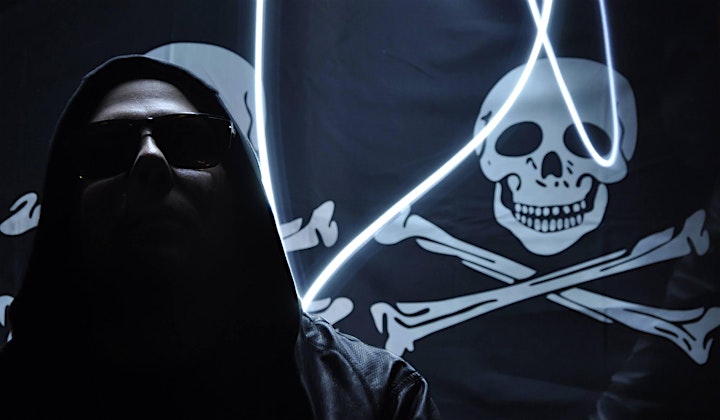 Facebook | Bandcamp | Twitter | Instagram

Producer and lyricist Maulskull, best known for founding Denver based hip hop outfit Black Mask, has been making noise in the indie rap scene for more than 6 years. Both solo and with full band backing, he has toured nationally promoting his pirate hip hop. Maulskull has played hundreds of shows, sharing stage space with respected acts like Grieves, Pharoahe Monch, Gza, Mac Lethal, Asher Roth, Slightly Stoopid, Mix Master Mike, RJD2 and even 80's rockstars Warrant just to name a few, as well as full scale national tours in 2012 and 2013 with DJ Abilities (Rhymesayers), Sadistik (Fake Four), The Chicharones (Camobear), Louis Logic (Fake Four), Sleep (Strange Famous) and many more. Fueled by the success of the most recent solo album (2012's "Us & Them") and Maulskull's Death By Thr33s EP series, which offered up a new 3 song EP every week for 19 consecutive weeks, he took his live solo set out for the entire summer on Warped Tour 2012, performing on the "Bring It Back" stage and distributing free music (over 7,000 copies of "Us and Them) hand-to-hand. In 2013, Maulskull has been hard at work producing tracks for his friends Sadistik, The Chicharones, Mane Rok, Prime Element, Verble and his Black Mask partners Aklock and AGFlux. Maulskull is also producing two new records for long time friend and touring buddy, Sleep of Oldominion (SFR) and the first is scheduled for release in the fall of 2013. You can check out Maulskull's amazing body of work for free at blackmask.bandcamp.com and enjoy a roller coaster ride of collaboration with artists like Tha Alkaholiks, Moka Only (Swollen Members) Josh Martinez, Celph Titled, Louis Logic, Verbal Kent (Molemen), Sleep, Verbal, Sole, Sapient and Eternia to name a few. Maulskull is currently in the studio recording his sophomore album "Un-amazing Grace" and working hard to bring his music to your doorstep in the coming year.

Venue Information:
Larimer Lounge
2721 Larimer St.
Denver, CO, 80205